Designfabrix - Colorful prints for your interior
Design Fabrix was founded in 2010 by Rian van Daalen arising from her passion for colorful, eye-catching design and (interior) products with graphical prints. Her dream is to bring design within reach of any household. Design that adds color to your house and strenghtens the personal touch of your interior. Products unique in their shape and kind you will not find everywhere.
The collection consists of products from graphical designers worldwide. In her search Rian is driven by colours, graphical prints, Scandinavian design, natural and pure materials, textile and of course her personal taste.
'Even as a kid I had a passion for textile, art, style and design. No rag of fabric, beautiful pattern or artbook was safe for me. I preferred changing the interior of my room every week. Throughout the years I have broadened this passion with my education and several courses.' After working a few years as a town planner and with the arrival of the kids, she put over the helm: Design Fabrix was born. Rian is mother of four daughters and lives in The Hague.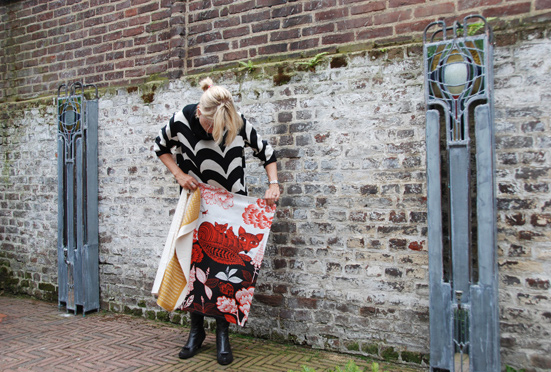 Design Fabrix in the media:
Treat Youself!
A candy of a webshop full of beautiful products. It makes us totally happy. Great aprons, trendy dishcloths (yeah, really!), very nice DIY-skirts, nice bed-linen, masking tape... we hardly know where to start with so many lovely products! Treat yourself, shop presents and become happy. You will definitely succeed, here at Design Fabrix! (www.flavourites.nl)
Passion for prints
Lovely, a webshop with a passion for prints. At Design Fabirx you will not find a fully blank tea towel. but only tea towels with stylish prints in nordic design or a nostalgic version. Perfect to give your kitchen a boost. Also the kids got attention. A shop for toys and nice kids dresse with, of course, a beautiful print. (www.storesconnect.nl)
Unique kitchen textile
This makes us happy; many many beautiful kitchen products with fantastic prints! Marvellous kitchen towels, tea towels, table cloths and even trendy dishcloths you just need to have. But this not all. You will also find home accessories and many many stationary. A webshop that makes you greedy, so much fun! (www.bestofstores.nl)
Beautiful fabric, colourfull prints and designs
Designfabrix is a shop where you will find beautiful Fabrics, Colourfull prints and dessins. www.StyleCookie.nl